Decorate with Hardwood Features and Designs
After installing or refinishing your hardwood floor, Art Wood Floors can further improve your floor with beautiful inlaid wood patterns and staining. Inlays are created from using different woods to create patterns in your floor. Wood staining can make the final wood grain color lighter, deeper, or richer. Art Wood Floors designers take everything from wood type, interior décor, and your personal style into account when coming up with inlay designs for your home.

Cool Inlaid Patterns for Wood Floors
Inlays involve many different woods to create a special pattern in the floor. Wood medallions are a type of inlay with a special, circular design. It is very important to select compatible woods here; otherwise you may be left with an eyesore. Our wood artisans know how to select the best woods for your inlay.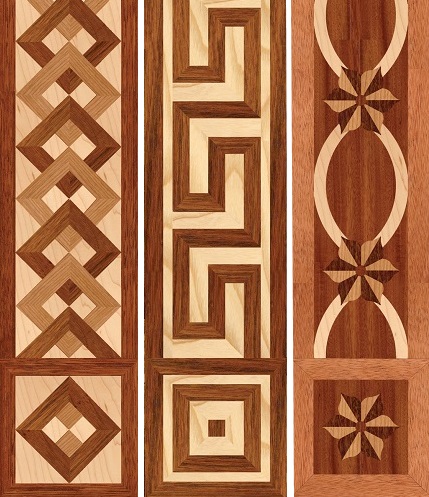 Stains are a way to add color to an entire wood floor at once. Different woods are easier to stain than others or can have different final appearance depending on whether a light or dark stain is used. Our hardwood craftsmen can assist you in selecting the best wood to compliment both the floor and the wall for the best look. If you're doing a complete home remodel, a stain can make a difference in how your new floors look.
After applying a stain, our contractors will give your floor a final finishing touch. Bona Traffic and Bona Traffic HD can protect your floors from years of damage from moving furniture, pets, and young children. Each of these features can by styled by Art Wood Floors artisans to match the overall design and feel of your home.
Contact the professional inlay and staining contractors of Art Wood Floors to select inlay patterns or stained features for your home remodeling project.