Refinish or Install Durable Wood Flooring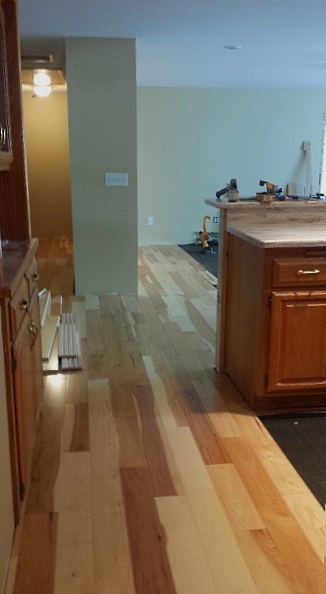 Kitchens are often the heart of the home, a gathering space for family and friends. Unfortunately, this means lots of traffic, spills, and accidents. A well-protected floor is a necessity in the kitchen to avoid showing wear, tear, and age. Art Wood Floors local Wisconsin contractors can install or refinish a hardwood kitchen floor to withstand years of use.
Hardwood floors in your kitchen will help you avoid scratches from use and stains from spills. Wood is naturally strong and durable, and different woods have different benefits for your kitchen. Some woods, like oak, can hide dirt and crumbs due to their darker grain pattern. If you have darker cabinets and kitchen appliances, a lighter wood will help balance the color of the room. Our professional hardwood experts will help you select the right type of wood for your kitchen.

Exotic Hardwood Selection in Wisconsin
Art Wood Floors has a wide range of hardwood to choose from, including traditional maple and cedar. You can also select a more exotic wood like bamboo and redwood. No matter which wood you select, our designers can create the best pattern for your home. We are experienced with all types of wood.
You can also choose from reclaimed or solid wood. Solid wood is hardwood from a single tree while reclaimed or engineered is composed of several layers of wood pressed together for additional strength and durability. The reclaimed wood is great for the environment as it reuses existing wood material. For this reason it's often less expensive than most exotic solid woods.
Fast Floor Installation
One of the worst parts of having a floor installed is limited access to your own home. Art Wood Floors has finished full wood floor kitchen installations in as little as three days. We want you to get back into your kitchen as soon as possible.
Once installation is over, Art Wood Floors contractors will make sure all corners are evenly matched and completely clean up after. You'll be enjoying your new hardwood floor without having to lift a finger. With a Bona Floor Care finish, you can enjoy extra sheen and protection as well for up to five, ten, or twenty-five years.