Tile Flooring Designs and Installation
Beautiful Floors for Every Room of Your Home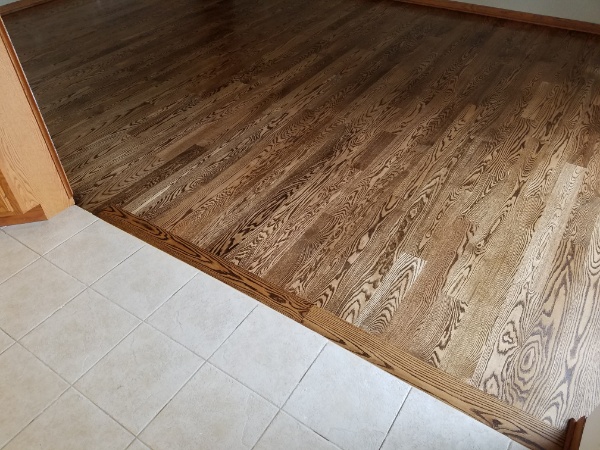 Tile floors are more popular than ever with homeowners looking to make their flooring stand out. Art Wood Floor artisans design and install tile floors for homes across southeast Wisconsin. Just like our hardwood floors, tile adds a timeless beauty to homes. Our tile floors are appropriate in every room of your house. Contact our designers to discuss adding tile to your floor remodeling project.
Tile options include:
Natural stone (i.e. granite, marble)
Ceramic
Porcelain
Metal
Rubber or plastic
Our home remodeling experts will help you select the right type and style of tile for your flooring project. We can match your tile to a similar hardwood for larger flooring projects.
Benefits of Custom Ceramic Floors
Unlike hardwood, tile flooring can handle high moisture exposure. Tile floors are popular in kitchens and bathroom due to their water resistance. However, tile floors quickly expanding into other rooms as well. Tile can now be found everywhere in the home from a front foyer to guest bedrooms. The reasons are clear:
Long-lasting
Low maintenance
Affordable
Environmentally-friendly
Cleaning tiles is just as easy as hardwood: sweep and spot clean as needed. There's no need to haul out a heavy vacuum cleaner or steam cleaner. Low maintenance tile will last longer and look better than carpet, especially in high traffic areas of your house.
Tile is great for homes with pets! Say goodbye to ripped up carpet or linoleum scratches when you replace your flooring with tile.
Elaborate Floor Patterns with Tile
Tiles are available in many colors and shapes. The floor design possibilities with tile are endless, adding to their popularity. Ask our designers about all the options for using tiles in your home.
Tiles can be large or small, depending on what pattern you want. Larger tiles are useful for geometric designs or monochromatic color schemes. Smaller tiles can be organized into more elaborate designs.
Expert Flooring Contractors of Southeast Wisconsin
Art Wood Floors are the experts at designing, installing, and finishing wood and tile floors. We have worked all across southeast Wisconsin, improving homes with custom flooring in every room.
Take a look out our Flooring Idea Gallery to see our past work and get an idea of designs for your home. We've done everything from basic hardwood floor refinishing to custom borders and medallions.