Add Hardwood to a Family Room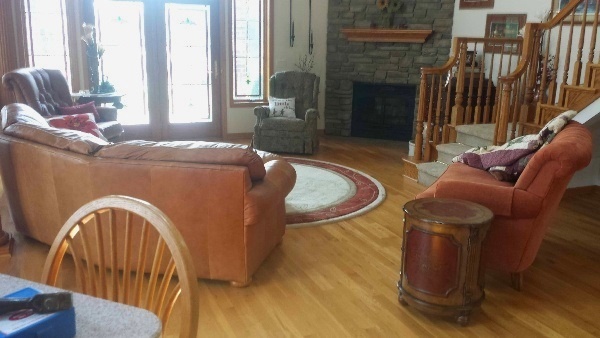 Living rooms can deal with a lot of activity. It's where children play and guests gather. With constant traffic in and out, many living rooms floors can be left looking dull or unattractive. Art Wood Floors of Wisconsin has many different types of wood, from the traditional to the exotic, to meet the exact needs of your home.
A hardwood floor for your living room is a great way to be welcomed home. Art Wood Floors contractors can install a new hardwood floor to create a comfortable and inviting living room. Whether you have lots of visitors and family gatherings or just want a quiet space to unwind after a long day, a quality hardwood floor is just what your home needs.

Wood Variety for Your Home
Various types of hardwood have different advantages. A sturdy oak will give you living room a traditional appearance while bamboo will leave you with a more flexible floor. Various stain options can further customize the color of your new flooring.
If you have a living room with adjoins a kitchen or dining room, selecting the right wood becomes more of a challenge. You have to take the furniture of the living room into account while also keeping a cohesive look between different rooms. Art Wood Floors artisans will help you come up with the right type of wood to make your whole house look good.
Wood Increases the Value of Your Home
Hardwood floors doesn't just make your home look nice, it improves the value! Woods floors are one of the top things buyers and renters consider when viewing a house. If you plan to rent or sell, replacing the floors with valuable wood is key.
Wood floors in the living room are a huge advantage for keeping the house clean. Carpets can be easily stained and retain allergens even after vacuuming. Dust and debris has nowhere to hide on hardwood floors. And with Bona floor finishing products applied by our Art Wood Floor experts, your hardwood will have more protection.
Contact Art Wood Floors Oconomowoc hardwood contractors to start your living room floor installation today.