Professional Floor Installation across Southeast Wisconsin
Custom Wood and Tile Installation Services in Union Grove
Hardwood flooring is one of the many ways to increase the value of your home while adding natural beauty for years to come. Whether you want to improve your lake home by summer or install new floors for a cozy winter, the time is right for your new hardwood floor from Art Wood Floors of Union Grove, WI.
We are more than just hardwood floor contractors. Our craftsmanship and artistry offer a superior level of quality when compared with other flooring companies. There is more to your floor than wood or tile. They are part of your home, the ground you stand on, where your child will learn to walk, where family and friends will gather, where you feel safe and comfortable.

Traditional and Exotic Wood Variety for Wisconsin Homeowners
Art Wood Floors can install any type of wood for your new floor. We offer everything from traditional oaks to mahogany and bamboo. We will even give you a free estimate on the cost to install a kitchen, dining room, or hall floor in the wood of your choice to get a more accurate budget.
Our Wood 101 guide will introduce you to various woods and their benefits. Select the one right for your home and we can get started installing your new floor on your schedule. Browse our Idea gallery to see some of our past wood floor installation projects. Or ask about our tile floor designs.
Timely Floor Installation in Kitchens, Dining Rooms, and Bedrooms
Before enjoying your floor, it has to be installed. Other companies may make you wait for weeks at a time as they slowly work on your new floor. Art Wood Floors knows you want the job done with as little interruption to your daily life as possible. We want you to continue enjoying your home as we create floors for: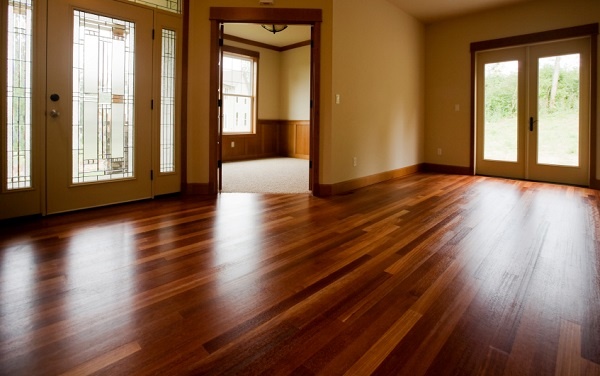 A full kitchen floor can be installed in as little as three days. Imagine having a transformed home after one extended weekend. Depending on the quality of your wood and the details of the finish, time may vary. A large hallway may be faster to complete than a small room due to the level of exact details required. Our Art Wood installers can give you an accurate estimate after evaluating the space.
Avoid the Hassle of DIY Woodworking
The contractors at Art Wood Floors know attempting to install your own floor may seem like an affordable alternative, yet a professional installation is worth the extra cost. Too many novice installers may damage the wood or the rest of the house while trying to save money. Art Wood Floors professional contractors each have over twenty years of experience installing floors, doing all the hard work for you.
Too many times we've been called in to fix DIY flooring projects gone wrong. We've seen wood cut the wrong way, walls damaged, and the house left an unhealthy mess from dust. To keep your home clean during the installation process, we use a dust containment system. An Art Wood Floors installation makes the process a smooth transition and avoids anything that may damage your home. And since we clean up after ourselves, you can enjoy your new floor right away!
Natural Wood Floors Last for Years and Years
We handle all the heavy lifting, power cutting, and moving so you can relax as your beautiful floor is installed. From start to finish, Art Wood Floors will guide you through the entire flooring process. This includes staining and dustless refinishing in the future. We use Bona products to give your completed floor extra protection and luster for years. The Bona Traffic is used for most floors while the Bona Traffic HD offers even more floor protection. By using Bona products, we can offer 95% dust-free sanding for a cleaner and healthier installation.