Bedrooms with Hardwood Flooring
Master and Children's Bedroom Wood Floors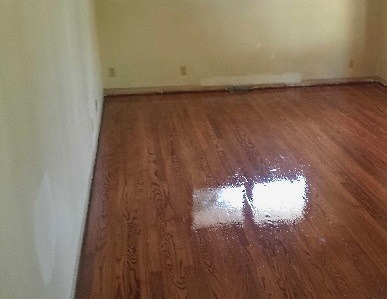 One of the most traditional looks for master bedrooms is with a hardwood floor. Guest bedrooms and even children's nurseries can also be visually enhanced with wood from Art Wood Floors. With years of experience, our hardwood contractors can help you remodel your bedroom to your exact tastes with quality hardwood.
Many homeowners with bedrooms on the second floor worry hardwood floor will cause too much noise on the floor below. While wood is louder than carpet, a professionally installed floor by Art Wood Floors won't create excess noise or creaking. Decorative area rugs can further dampen the transfer of sound while adding to the appearance of the room.
Overall, children's bedrooms can benefit as much as master bedrooms with hardwood floors. A wood floor will still be in style as your child grows, so when they redecorate you don't have to spend money removing and installing carpet over and over. Wood floors are also great for playtime, as balls and toy cars can easily traverse the smooth finish.
Hardwood bedroom floors have an overlooked advantage to carpet. Allergens can become trapped in carpet fibers, whereas they are easily cleaned up with hardwood. Kid's bedrooms and nurseries are also easier to clean after a spill when a hardwood floor can simply be wiped while a carpet might become stained.
With a beautiful hardwood floor from Art Wood Floors, your master bedroom can become the crown jewel of your home. Art Wood Floors has traditional and exotic woods for more variety when installing or remodeling your home. Whatever you want for your bedroom, our wide selection of woods will leave you with endless possibilities for remodeling.
For more information on remodeling with hardwood, contact the Lake Geneva exotic wood experts of Art Wood Floors today.