Dustless Hardwood Floor Refinishing in Southeast Wisconsin
Repair Your Home's Natural Wood Flooring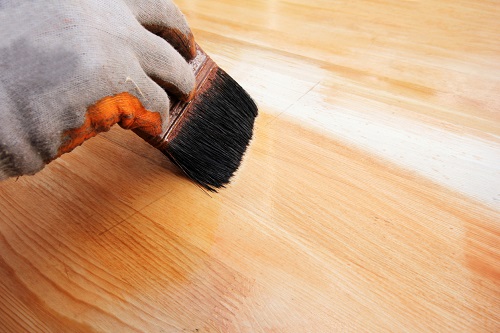 Newly installed hardwood floors are a beautiful addition to any home. Unfortunately, older wood or poorly maintained floors can be easily scratched up, ruining the appearance. Art Wood Floors contractors have an easy solution for your floors – dustless refinishing. Rather than ripping out your old floor and having a new one installed over the course of a few days, we simply apply new Bona professional floor finish to preserve and protect the wood almost instantly.
When your floor is scratched or gouged, there is still hope to restore the wood with professional hardwood craftsmen. Art Wood Floors contractors can expertly sand down wood surfaces to reduce the appearance of damage before applying a Bona finish. This process will leave you trying to remember where the scratches once were.
Professional, Dustless Floor Refinishing
Wood dust created from sanding can be a major hazard to your health and make your home look like a mess. The finer the dust, the harder it is to clean. Art Wood Floors offers dustless floor refinishing for our customers. Our sanding technique keeps wood dust contained as we work. We minimize sawdust throughout the repair process so you're not left with a mess.

Affordable Protection for Hardwood Floors
Refinishing a floor is an affordable way to restore hardwood without replacing it. Underneath scratches and dulled surfaces is a beautiful floor waiting to shine. Our professional refinishing draws out the original luster of natural hardwood.
To prevent damage to your floor in the first place, the common causes must be taken into account. Children and pets are both potential causes of roughed up floors. Dogs and cats should have their claws kept to a reasonable length to avoid damaging your floor. Dents can be caused by heavy objects or furniture. Even high heeled shoes can cause gouges in especially soft wood.
Of course, you shouldn't have to tiptoe around your own house to avoid damaging the floors! Art Wood Floors recommends getting professional refinishing for your hardwood floor to keep the wood strong and durable while hiding any current imperfections.
Different Rooms, Different Woods, Different Finishes
Depending on which floor is hardwood, you may not have to worry about future refinishing for years to come. A den or study meant only for quiet desk work is less likely to be accidentally scratched than a family kitchen. A bedroom is less likely to need refinishing than the main hallway in your home.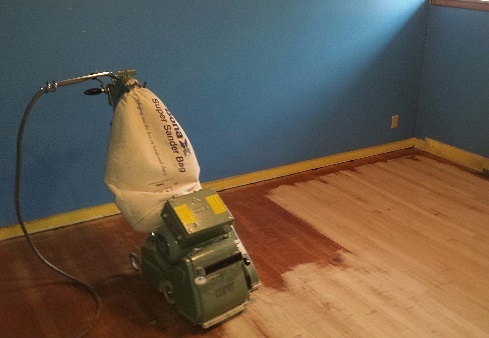 We refinish wood floors throughout the home:
Certain types of wood are more prone to scratches. Art Wood Floors craftsmen can guide you through the process of selecting the best wood for your home environment. A room meant only for the occasional guest could use a soft wood without much fear of scratches while a main corridor should stay with something hard and be regularly refinished. Use our Wood 101 guide to get an idea about all the different natural wood flooring options available.
Restoring Old Hardwood Flooring
Refinishing authentic hardwood floors in older homes require special care to preserve their appearance. The professional flooring contractors at Art Wood know how to best restore all types of hardwood. A dull floor can be easily transformed into a bright and beautiful one with our expert work.
Signs Wood Needs Refinishing
Scratches
Gouges
Water damage
Faded color
Changing color
Cloudy appearance
Gaps between the planks may be a sign your floor needs more extensive repairs. Contact Art Wood Floors contractors to learn is refinishing or replacing is the better option for your floor.
Art Wood Floors uses Bona finishing products on our flooring projects. In fact, we are a Bona Certified Contractor. Your floor will look good as new with Art Wood Floors refinishing. If your floor is ready to be replaced, ask about our hardwood installation services.