Waterford Flooring Installation and Refinishing
Wood and tile floor installation specialists for southeast Wisconsin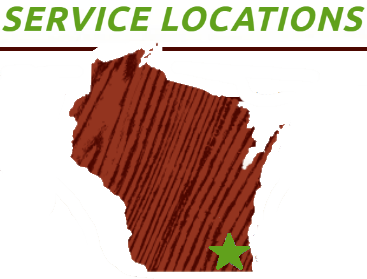 Can flooring be an art form? Yes. Especially when your floors are installed by Art Wood Floors. Whether we're restoring worn and scarred hardwood flooring or installing marble tiles, our work enhances a home's appearance, its value and—most importantly—its livability. If you are considering having your Waterford home's flooring redone or upgraded, consider Art Wood Floors.
Wood Flooring Services in Racine County
Have the wood floors in your Waterford been scratched and gouged from pets and kids and furniture being carelessly moved around? Art Wood Floors can restore them to their original beauty. Or maybe you're looking to upgrade the "clacky" laminate flooring in your home with real hardwood? Let us get you an estimate.
For homeowners looking for something more than just a refinish or installation, our craftsmen can design and install custom wood inlays and borders using contrasting species of wood. Unlike some flooring companies, we don't subcontract out work so we can move on to another job. We follow through on every job from estimate to completion, always with the goal of minimizing disruption to your life.
Wood flooring we refinish and install:
Maple
Oak
Cherry
Bamboo
Pine
Reclaimed woods
Exotic woods
Tile Flooring Services
Although the word "tile" is conspicuously absent from our name, Art Wood Floors is every bit as obsessive about artisan-quality tile work as we are about hardwood flooring. We work with all types of tile—from traditional, natural stone to 21st century metal flooring.
Tile flooring isn't just for kitchens and bathrooms anymore. We're getting more requests than ever for tiled living rooms and offices. With in-floor heating mats installed under tile flooring (yes, we do this!), a tile floor will be comfortably warm even in winter. Don't be overwhelmed by all the options, though. Our flooring designers can help you choose a tile and a pattern you'll love.
Tile flooring we install:
Ceramic
Porcelain
Natural stone